Back-to-blogs
Partnering with a Contractor Agency: The Benefits
Posted-on September 2023 By Marine Resources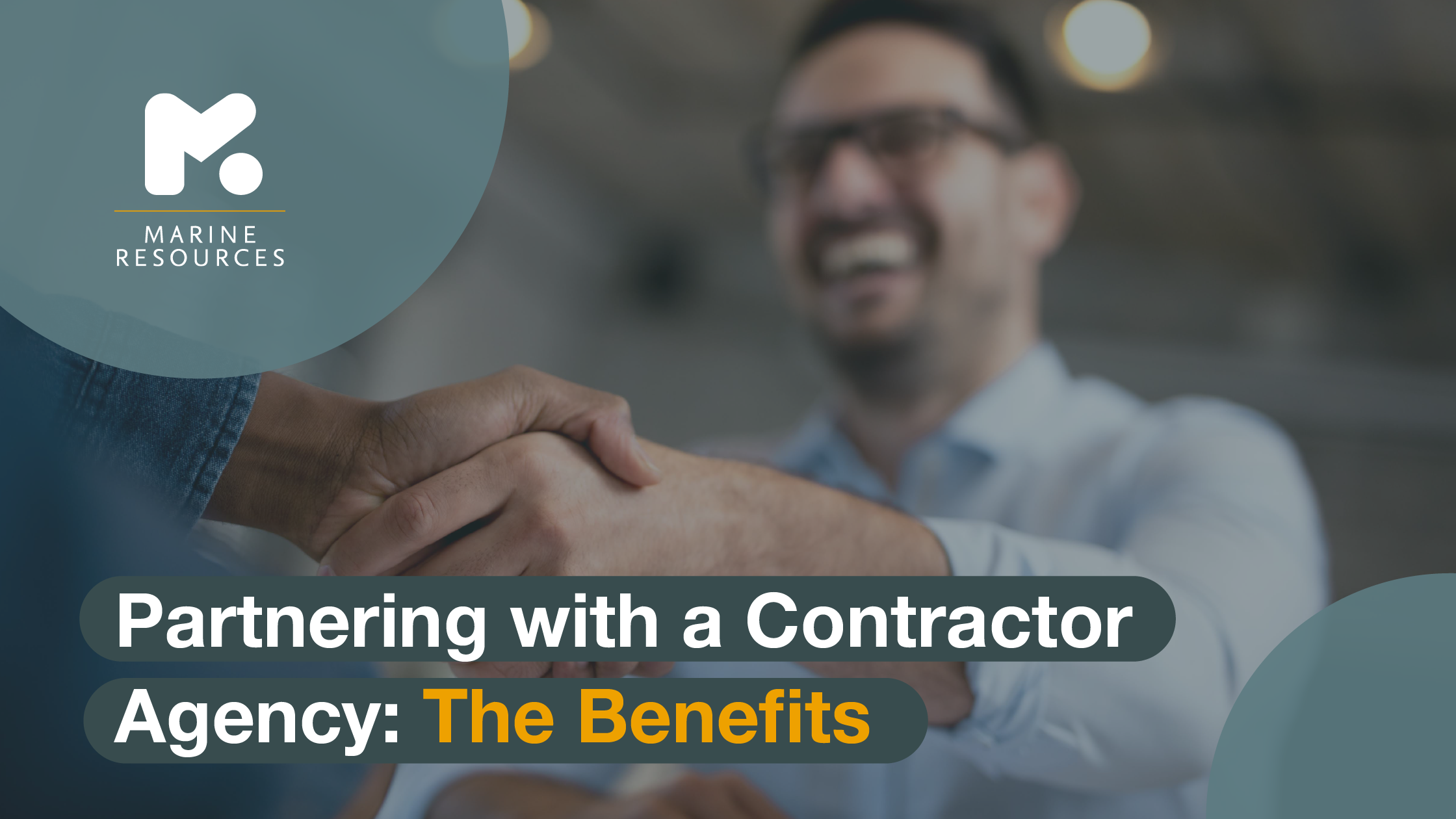 ​Like most industries, the Marine Industry is operating in talent-tight times. As a result, you may have turned to contractor recruitment in the UK as a solution. It not only helps you cover immediate hiring needs, but also gives you a relatively risk-free way of completing short-term projects and trying someone temporarily to determine a longer-term fit.
But finding and recruiting reliable contractors is a big task. One way to alleviate this is by partnering with a specialist marine industry contractor recruitment agency. From cost-effectiveness to better quality hires, here are six key benefits of engaging with a specialist contractor agency.
​
1. A Wider Reach
The recruitment market has drastically changed in recent years. It's no longer enough to post a job ad on a few job boards in the hopes of finding the best contractors. It requires a much more considered and strategic approach, encompassing both online and in-person professional and social networking. It must also be effective and showcase your company culture, EVP, rates of pay and growth opportunities.
This is a highly labour-intensive task but one you won't need to complete if you engage an industry-specific contractor recruitment agency. For instance, here at Marine Resources, we've spent the last twenty years cultivating an extensive international network packed with a pool of skilled and experienced contractors. Each has a deep understanding of the unique challenges and requirements within this niche sector, and the skills to match! This is a 'live' list, enabling us to look for contractors with suitable availability in all areas of skilled trades within boat and shipbuilding.
We also specialise in passive contractor outreach, connecting with those who aren't necessarily actively looking for a new role, but who may be willing to consider an opportunity with a great company, such as yours! We do this outreach online but also at key industry events, such as the Southampton Boat Show and the Boat Builder Awards.
​
2. Higher Calibre Hires
To make the right hiring decision, a reputable contractor recruitment agency ensures they really understand not only your project objectives, but your team dynamics, company culture, vision, values and mission.
A skilled recruitment agency also has a team of recruiters well-versed in the intricacies of the Marine industry. They have insights into the sector's dynamics, trends and skill demands, helping them to accurately assess a contractor's suitability (not to mention some adept interviewing skills to draw this information out!).
One example of our expertise is our annual industry Salary Survey. It's something that saves our clients the time-consuming – and very important – task of benchmarking salary, rates of pay and benefit offerings to attract and secure top talent.
​
3. Faster Talent Acquisition
In the highly competitive contracting field, hiring speed is vital. By partnering with a contractor recruitment agency who understands your market, you can bypass the time-consuming tasks of searching, vetting and checking contractors. You'll be free to jump straight to the interviewing part to fill your open role that much quicker.
​
4. Cost Effective
There are many costs involved in recruiting contractors on your own, not least of which is the time it takes away from either yourself or other HR staff tasked with the job. This can mean neglecting core areas of work which impact productivity and drive down sales and the bottom line.
A Marine contractor recruitment agency already has best practice and streamlined hiring processes in place, honed from years in the business. Leave the labour-intensive tasks of advertising for the role, interviewing and inducting employees to us. Alongside all the administration aspects of managing contractors, our services also include ongoing contractor training, support, monitoring and evaluation after placement to ensure your contractors are meeting and exceeding your expectations.
​
5. Flexibility
The Marine industry can experience fluctuations in demand, and having a pool of contract workers allows your business to adapt quickly to changing project needs. A core strength of working with a contractor recruitment agency is moving deftly through the recruitment process and providing skilled contractors at short notice, ensuring seamless operations even during peak periods.
Here at Marine Resources, we have a strong contractor network in skilled trades, and we're also building our talent pool in design, engineering and technical, as well as sales, marketing and operations. But you can also access our executive search or project offering for specialty roles, such as certified and experienced Marina Managers, or Naval Architects This gives you a whole team of contractors of any size and skill sets to work on your existing project or manage it.
6. No Payroll, Compliance or Legislation Headaches
One of the most enticing benefits of partnering with a contractor recruitment agency is the chance to outsource payroll and the inevitable cash flow problems that brings. We are supported by a dedicated Finance support function, 3R, who offer a streamlined payroll service, ensuring contractors are paid on time, and there's no interruption in their ability to fulfill their contracts.
​With a marine Industry specialist Recruiter, rest easy knowing we're always up-to-date with employment laws, regulations and compliance standards. This is especially the case for IR35 legislation, something we take care of for you, minimising your risk of non-compliance and potential legal complications associated with hiring contractors.
​
Further Contractor Support
As you can see, there are many benefits of engaging a Marine Industry recruitment agency for contractor recruitment in the UK. From giving you immediate access to a pool of skilled workers to removing payroll and compliance headaches, your recruitment partner is one of the most powerful partners in your business.
Please connect with our specialist team to find out more about how we can help you with your contractor hiring needs for optimum business success.