Back-to-blogs
Exciting Career Pathways in the Leisure Marine Industry
Posted-on June 2023 By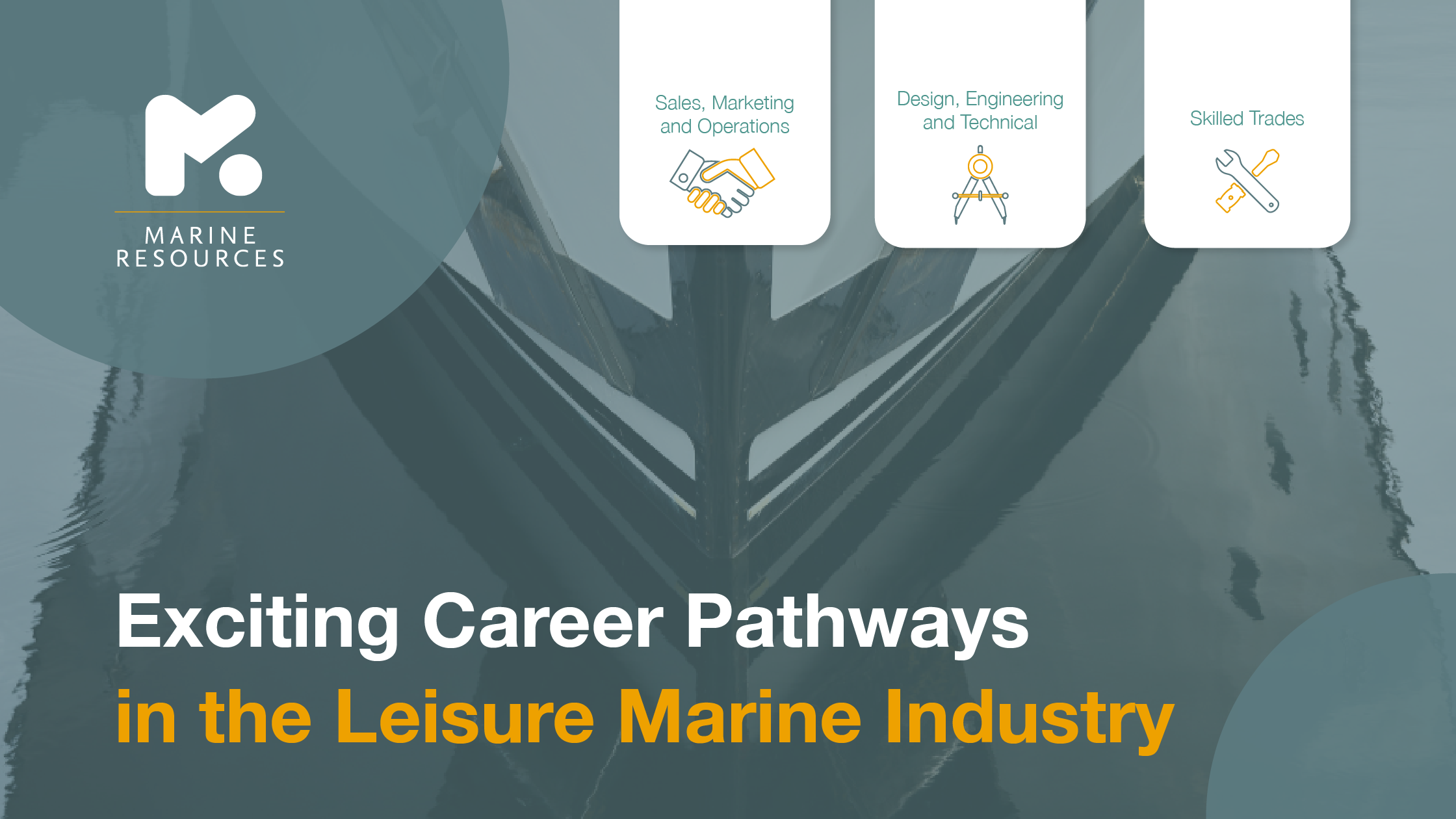 ​
Regarding shore-based careers in the UK marine industry, many opportunities exist. Whether you love designing or building boats, have a passion for nurturing customer relationships, or have a knack for management, there is a treasure trove of positions to suit.
​
And there's never been a better time to enter the industry. There's plenty of exciting innovation and transformation across all sectors, from building to designing to selling.
​
Here you'll find an overview of career pathways in the leisure marine industry, alongside key insights about these sectors directly from our specialist recruiters. In addition, we've highlighted a role from each of our recruitment division categories. Each one effectively showcases how choosing a career in the UK leisure marine industry can tap into your natural passion, and grow your career personally and professionally.
​
Skilled Trades Career Pathways In the Leisure Marine Industry
​
The UK leisure marine industry skilled trades sector covers all those essential employees who are highly adept in the tools. It's an area of high demand, with a constant need for expert tradespeople to work in shipyards and refit yards, with both permanent and contract roles consistently available.
​
The skilled trades division offers you the chance to engage in hands-on work that brings tangible results, namely your craftsmanship in the form of a stunning vessel!
​
You'll also enjoy a great sense of collaboration working in a close-knit team, while benefiting from the sector's dynamism. As technology advances and new materials and techniques emerge, you'll need to keep your skills current and adapt to changing industry standards, giving you ample ongoing opportunities to learn and progress.
​
Skills Trade Career Pathway Highlight - Boat Builder/Shipwright
​
If you have a passion for craftsmanship and a love for boats, being a boat builder might be your calling. You'll get the chance to use your skills to construct and assemble boats of all shapes and sizes. From traditional wooden vessels to modern fibreglass wonders, you'll be at the forefront of creating floating masterpieces.
​
Education and Training
You can become a boat builder in a number of ways. It could be through undertaking a college course in marine crafts, like the Level 2 or Level 3 Diploma in Marine Construction, or by snagging yourself an advanced apprenticeship which will take 3-4 years to complete. These programmes provide hands-on training and cover the fundamentals of boat construction. Having the right experience certainly prevails over qualifications, and if you're a contractor, you'll need this to hit the ground running.
​
Sales, Marketing and Operations Career Pathways In the Leisure Marine Industry
​
Working in the leisure marine sector's sales, marketing or operations divisions means you'll play a pivotal role in bringing the magic of boating to enthusiasts in the UK and beyond.
​
These sectors require you to have a healthy dose of passion for the industry, on-point people skills and a great network (or the aptitude to build one quickly!). Each one is also currently experiencing staff shortages, so there is an overwhelming demand for skilled professionals to work shore-side in yacht brokerages, equipment manufacturers, boat builders, marinas and ports.
​
Whether it's the creativity of captivating audiences through your marketing endeavours, the thrill of matching customers with their dream boats, or the satisfaction of delivering seamless operations, enjoy taking your pick of any of these exciting and fulfilling career opportunities within the UK marine industry.
​
Sales Career Pathway Highlight – Yacht Broker
​
Becoming a yacht broker is your chance to dive into the world of sales and become the go-to expert for clients looking to buy or sell their dream vessels. You'll be involved with negotiation, market analysis and client satisfaction, all while curating bespoke experiences and creating unforgettable memories to seal the deal.
​
As for your skillset, you'll need a sound and solid sales history and if that's not in the yacht arena, you need to be able to demonstrate a deep understanding of the industry and of these majestic vessels. Clients at this end of the buying spectrum are quick to spot an expert from a layperson, so schooling yourself in all things yachting is essential to land a role.
​
Education and Training
UK yacht brokers don't need any formal university training but it can be helpful to have a degree or qualification in retail marketing and sales. However, there are quite a few yacht-specific certifications that can give you a leg up on landing a role you covet.
​
You can begin with the ABYA Practical Brokerage Course, an intensive two-day course giving you a solid foundation in the process of selling a yacht, the financial and legal aspects of managing a sale, insurance details and HMRC requirements. In addition, consider doing the British Marine Law brokerage course.
​
Design, Engineering and Technical Career Pathways In the Leisure Marine Industry
​
If you're detail-oriented, process driven, organised and enjoy exploring the technical world, then the design, engineering or technical leisure marine sector might be your best fit.
​
You'll primarily work in design consultancies and studios, marine technology firms, or with boat builders and engineering manufacturers. If you're part of the design division, you'll be at the forefront of innovative boat concepts and breath-taking aesthetics. Combining your creative flair and technical knowledge, you'll have the chance to craft elegant hull designs, plan interior layouts and expertly blend colours, textures and materials to achieve the perfect balance of vessel form and function.
​
The leisure marine technical division focuses on the practical aspects of vessel construction, maintenance and quality control. You'll have a deep understanding of materials, manufacturing techniques, and production processes, ensuring boats are built to not only last, but adhere to regulations and industry best practices. This might involve overseeing construction in boatyards or conducting inspections and tests.
​
Design Career Pathway Highlight – Naval Architect
​
With your passion for boats and a love for design and engineering, you'll navigate the waters of naval architecture with your expertise.
​
From exploring advanced hull designs and materials to incorporating sustainable and eco-friendly solutions, you play a vital role in shaping the future of marine technology. Your work contributes to creating vessels that are more efficient, environmentally conscious and aligned with the evolving needs and expectations of customers.
​
A blend of technical proficiency, a keen eye for design, a creative mindset, a knack for problem-solving skills, a thirst for learning and the ability to manage projects from conception to completion is the ideal recipe for a successful naval architect.
​
Education and Training
The vast majority of naval architects have a degree or postgraduate qualification recognised by the Royal Institution of Naval Architects. It might be directly in naval architecture, or ocean, offshore or marine engineering, or ship science. You can sometimes springboard into one of these degree courses if you have engineering qualifications.
​
Further Leisure Marine Career Pathways Support
​
As you can see, the UK is teeming with opportunities in leisure marine career pathways. If you have a passion for the marine industry and a willingness to commit to ongoing learning, you're sure to have success in your chosen domain.
​
If you need further assistance in deciding on your career course, whether it's additional advice about direction or perusing the variety of open leisure marine roles we have here at Marine Resources, please connect with one of our specialist recruitment consultants. We'd love to help.