Back-to-blogs
10 Ways to Improve Recruitment and Retention Right Now
Posted-on May 2023 By James Ward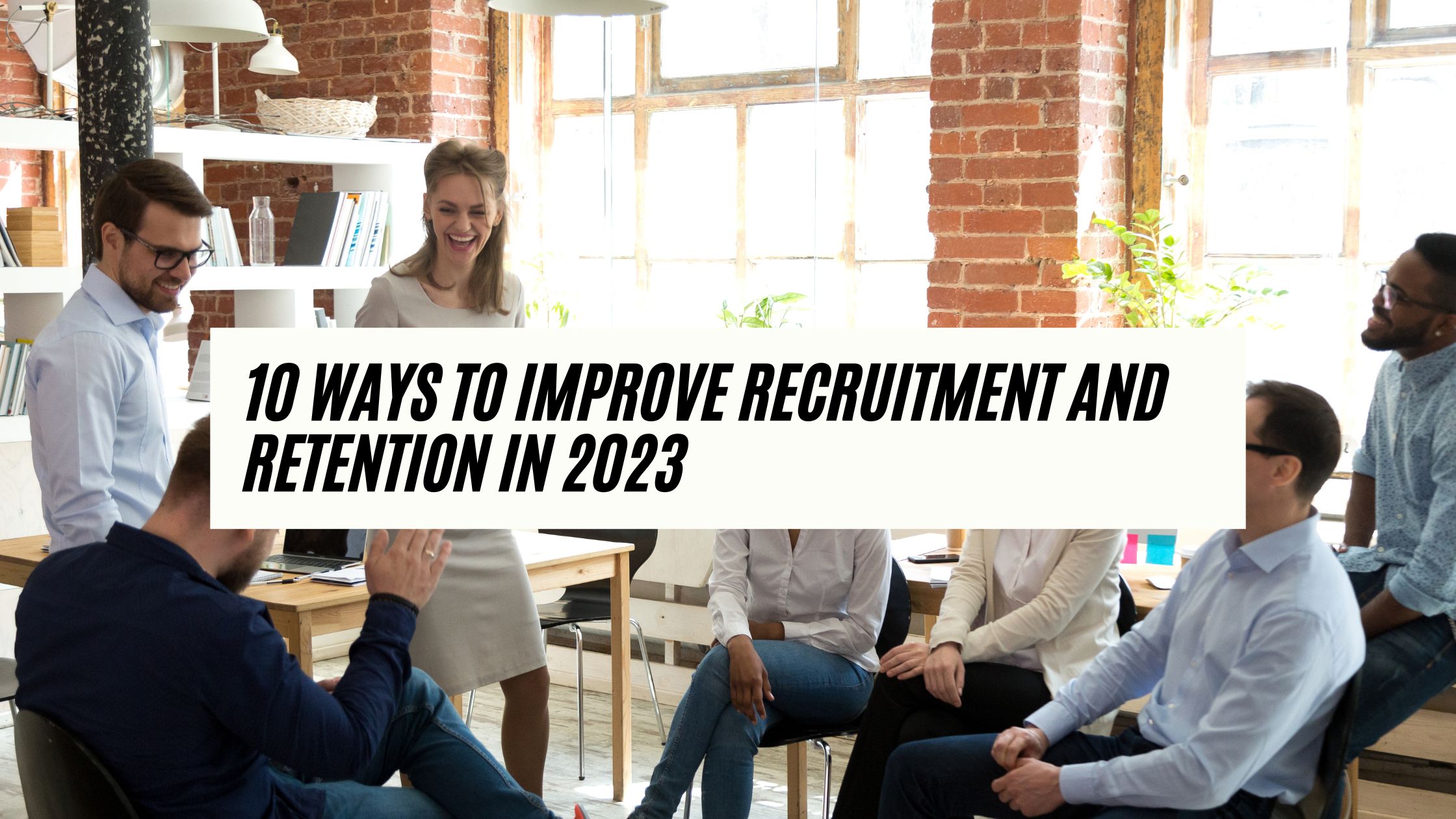 10 ways to improve Recruitment and Retention in 2023
Recruiting and retaining top talent is a challenge for any business. However, with the right strategies in place, you can make your company more attractive to potential employees and keep your current ones happy. Whether you're a small or large business, here are ten things you can do to improve recruitment and retention:
1.Stop Recruiting!
One of the best things you can do to improve your recruitment is to stop recruiting. It sounds strange, but many companies default to the traditional recruitment methods, throwing out an advert, doing the same thing repeatedly and expecting a different outcome. STOP, step back and plan. In the current market, the expectations of the jobseeker have changed, motivations for moving jobs (and staying in one) have changed, and companies need to be clear on not just the role they are trying to fill, but the type of person who would suit their culture. Why would someone come and work for them? What do they need to discuss to make them an attractive opportunity to apply for? All this needs to be considered before you can create a successful recruitment campaign in today's market.
2.Speak to your Current People
Your current employees are an excellent resource for great recruitment. Talk to them about their experiences working for the business. What do they like about the company? What needs improving? A Staff Engagement Survey is a great tool to come up with this feedback. You can then use this to promote your roles and business to your potential next employees. Logically the things your current employees value will attract like-minded new ones.
3.Develop a Strong Employer Brand
Your employer brand is how employees and potential candidates perceive your company. It's important to develop a strong employer brand by highlighting your company's values, culture, and benefits. Employee testimonials are a great way to do this. Within this you can also develop an EVP (Employee Value Proposition), which many jobseekers are wanting to understand, sometimes before even applying. A great question to ask yourself is "What do we want to be famous for in the eyes of our employees?".
4.Offer Competitive Compensation and Benefits
Salary and benefits are key factors in attracting and retaining top talent, especially in the current market. Do your research and ensure your salaries and benefits packages are competitive. Salary surveys like the Marine Resources Salary Survey can help with this (https://www.marineresources.co.uk/salary-surveys-2022). You may also consider offering perks, such as unique flexible working or wellness programs, to stand out from competitors. It's important to be clear about your hard and soft benefits. Remember, there could be perks that are taken for granted by some people but are a huge pull for others. So don't underestimate anything. Again, ask your current people what they consider a perk, you might be surprised.
5. Map out Career Development and Growth
Employees and potential employees want to feel like they're progressing in their careers. Map out career development and growth opportunities, such as training programs, mentorship, and promotions, which you can discuss at the interview. This shows that you value your employees' contributions and want to help them grow. Growth and Development do not always need to purely mean promotions and pay rises. The opportunity to take the lead on small projects or working groups goes a long way sometimes, and a little extra responsibility here and there really can seem like a big opportunity to some people.
6.Introduce a Referral Scheme
An Employee Referral Scheme can be an excellent way to attract top talent. Consider offering incentives for successful referrals, such as bonuses, vouchers, or even extra holiday days. This not only helps you find quality candidates, but also shows your employees that you value their input. They can speak first-hand about why they work for you to their own network. Referrals from a friend or family member go a long way in building confidence for someone to consider changing jobs.
7.Review Recruitment Marketing
Look at your job postings, social media presence, and other recruitment efforts. Are they appealing to your target audience? Are you using the right platforms? Review and adjust your recruitment marketing to better reach your ideal candidates, and ensure it includes information on the role, company culture, EVP, training, growth opportunities, remuneration, benefits and perks. You should also consider linking any recent press releases of exciting company news like new product launches or recent investments. This will get people excited.
8.Encourage Employee Recognition
Recognition and rewards show employees that their hard work and contributions are valued. It can be as simple as a thank you note or as elaborate as an annual bonus. You can promote this within your Recruitment Marketing as well. Post out recognition on your social media and demonstrate outwardly, whenever possible, examples of gratitude for great work.
9.Emphasise Diversity and Inclusion
Diversity and inclusion are not only the right thing to do but also benefit your business. A diverse workforce brings unique perspectives and ideas to the table, which can lead to increased innovation and creativity. Emphasise diversity and inclusion in your recruitment efforts and make your recruitment relevant and attractive to a diverse target audience. Most importantly, make sure your recruitment marketing has no bias towards race, gender, age, sexual orientation, or other personal characteristics that are unrelated to job performance.
10. Conduct Regular Performance Reviews
Regular performance reviews provide employees with feedback on their performance and allow them to set goals for improvement. Conducting regular reviews, both formal and informal shows your team that you're invested in their success. Again, you can promote this within your recruitment to demonstrate you value your employees' contributions and want to help them grow. It's amazing how many businesses still do not give their employees opportunity to have some feedback from their managers at least monthly.
Improving retention and recruitment takes time and effort, but it's worth it in the long run. By implementing these strategies, you can create a workplace that attracts and retains top talent while promoting long-term success for your business.
​
To learn more about how Marine Resources can help you with your recruitment and retention needs, get in touch with us today. Our team of experts can help you develop and implement effective strategies to attract and retain top talent in the marine industry. Contact us here.