Back-to-blogs
5 Essential Traits of Successful Yacht Brokers: The Key to Selling Luxury Yachts with Expertise and Professionalism
Posted-on March 2023 By Preslava McCarthy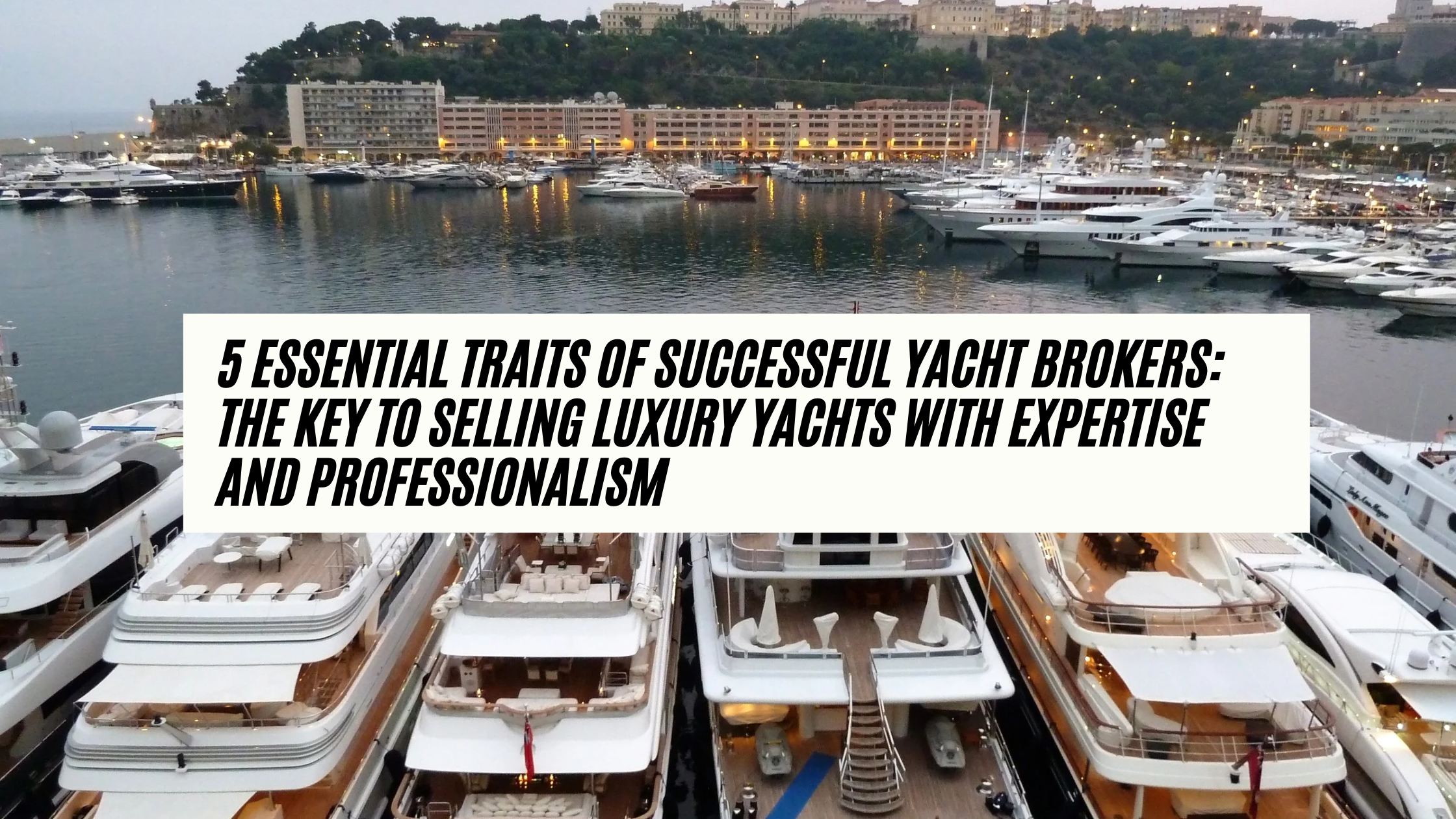 Yachts are undoubtedly one of the most luxurious items that people can own. However, selling yachts requires a specific level of knowledge, expertise, and professionalism to be successful. As a yacht broker, you are responsible for understanding the market, building relationships with clients, and closing deals. In this blog post, we will delve into five essential traits that every successful yacht broker should possess.
1. Sales Skills
First and foremost, a successful yacht broker needs to have exceptional sales skills. You must be a great communicator with strong negotiation and persuasion abilities. Even with clients who are hesitant about the investment, you must be able to sell the benefits of owning a yacht. You must also have the ability to close deals and manage the sales process from start to finish.
2. Knowledge and Passion for the Industry
In addition to sales skills, having deep knowledge and passion for the industry is essential for a successful yacht broker. Having an in-depth understanding of the industry, market trends, and regulations is key. Being a genuine enthusiast of yachts is also essential, and staying up-to-date with the latest trends and developments in the industry is a must. Clients expect you to be an expert in the field, and you should provide them with valuable insights and advice.
3. Attention to Detail
Attention to detail is another trait that every successful yacht broker should possess. Yachts are intricate machines that require a lot of attention and care. As a yacht broker, you need to know everything about the yachts you are selling, including their features, specifications, and condition. You must be able to answer any questions your clients may have and provide them with accurate information about the yacht.
4. Customer Service
Providing exceptional customer service is key to building strong relationships with your clients. As a yacht broker, you should be focused on delivering an extremely high level of customer service, from the first contact to the final sale and beyond. Your clients should feel valued and supported throughout the entire process.
5. Networking Skills
Networking is also essential for a successful yacht broker. You should have a strong network of industry contacts, including yacht builders, marinas, and other brokers. You should be able to leverage these relationships to find buyers and sellers and grow your business. Building strong relationships with other professionals in the industry can help you stay informed about the latest trends and developments.
​
In summary, becoming a successful yacht broker requires specific skills and qualities. You need to have excellent sales skills, a deep understanding of the industry, attention to detail, and exceptional customer service. Building a strong network of industry contacts is also essential for growing your business. If you possess these traits and are interested in a career in yacht brokerage, feel free to contact our team to discuss our current roles.
SIGN UP to our weekly job seeker's newsletter for the latest careers in the industry HERE.
​
Sales Marketing and Operations team:
Suzie Brushett, Recruitment Consultant
📞 +44 (0) 7774 668144
📧suzie.brushett@marineresources.co.uk
​
Jo Priestley, Resource Consultant
📞 +44 (0) 7776 598452
📧 jo.priestley@marineresources.co.uk
​
Oliver Wells, Executive Search Lead
📞 +44 (0) 7458 040285
📧 oliver.wells@marineresources.co.uk