Back-to-blogs
Innovation Inside the Marine Industry
Posted-on December 2022 By Inside Marine Podcast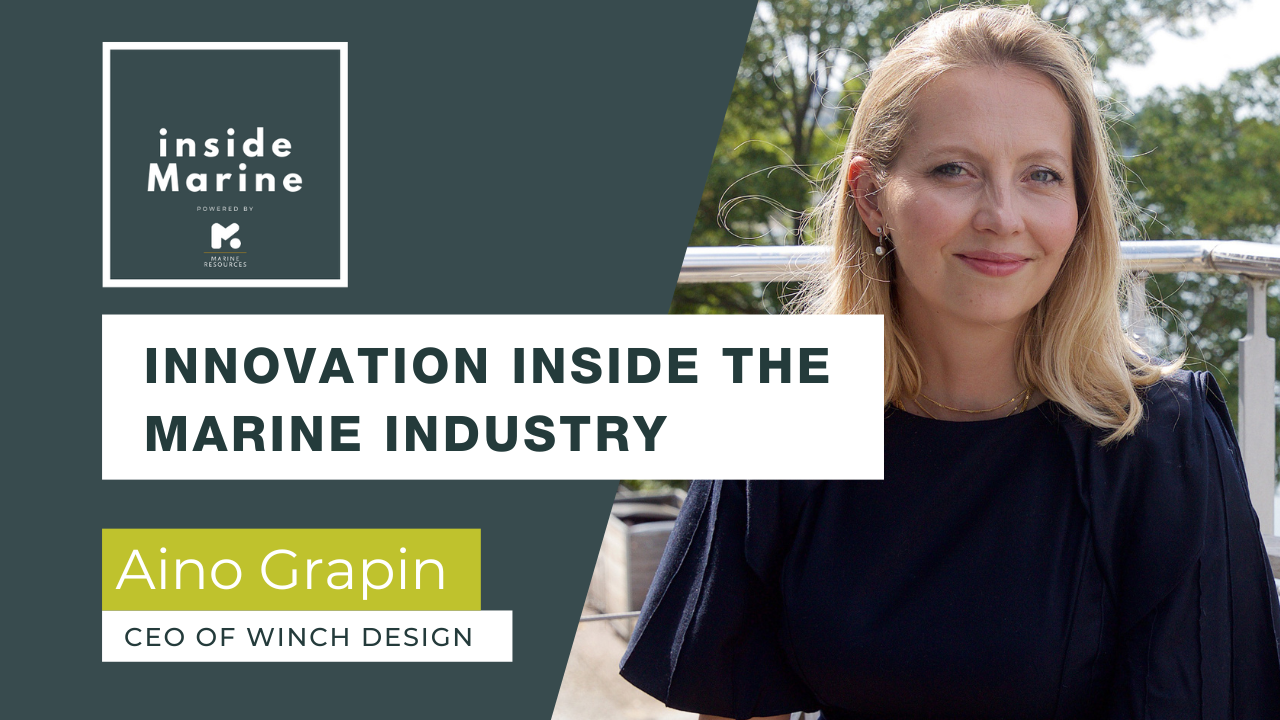 ​The marine industry is constantly evolving to react to global circumstances, from shifting economies to growing environmental concerns. Whether you're browsing for a new home-away-from-home on a luxurious super yacht or a scientist developing the latest piece of revolutionary tech, these issues affect everyone in the sector.
On Episode 6 of Inside Marine spoke to Aino-Leena Grapin, the CEO of Winch Design, about what we can do to address these changing trends. She shared her perspectives on creativity, innovation and sustainability in the marine industry.
As the industry grows, we're benefiting from a breadth of experiences. We benefit a great deal from bringing people from luxury design or hospitality architecture into our work. We have a great diversity of people, from textile and furniture designers to procurement and marketing specialists. Because the marine industry is such a niche, it can really enrich itself from onboarding those new ideas.
The marine industry takes creativity to a whole different level. Superyacht design is being influenced by residential architecture, both exterior of homes and interior. People want their yachts to feel homey, safe and luxurious. Yachts are starting to look more like homes; very nice homes, but homes nonetheless. We can also take inspiration from hospitality. People tell us, 'this is my favourite bar, I love this about the spa in this hotel', so we take that inspiration and elevate it and incorporate those luxuries into our innovative designs.
There is now an increasing focus on sustainable materials and technology. Designers are looking for eco textiles to incorporate in their products. Shipyards are looking at hydrogen propulsion. Air conditioning companies are looking at better ways to reduce the load. We should all look at how we can have a positive impact.
Consumers are asking how their products are being made, and the next generation is pushing for sustainability because they want to protect their future. Companies are putting substantial research and development behind sustainability because you can't just click your fingers and have solutions. It takes a lot of research to make sure our choices aren't going to have unforeseen impacts elsewhere.
The yachting industry can be what Formula One is for the automotive industry. We have budgets and clients like patrons who allow us to push the boundaries and find exciting solutions, but it takes a village to make these things happen. If you are hiring creatives and people who have different skill sets and backgrounds, you need to give them the budget that they need and then let them make magic happen before trying to bring it back into the business.
The Blue Marine Foundation has been a great awareness booster for the whole yachting industry. The research and work that they're doing is showing that if we can save the oceans, they will save us. The ocean is actually the solution to our climate change crisis because it can absorb far more carbon dioxide and greenhouse gases than land. When you protect a marine area, within a few years, life has returned. We should focus on rewilding the sea and protecting the oceans from trawling.
To hear more about the work that Winch Design is doing to protect our oceans, tune into the full episode of Inside Marine.
On Inside Marine, we sit down with some of the biggest names in the marine industry. We'll have a core focus on their journey from the early days, to the present and their outlook on the future of our industry.
The main aim of the show is to give listeners a real insight into the marine industry and everything around it. Follow the link here to see some of our latest episodes, and don't forget to subscribe!