Back-to-blogs
Best Company to Work For - Under 20 Employees
Posted-on September 2018 By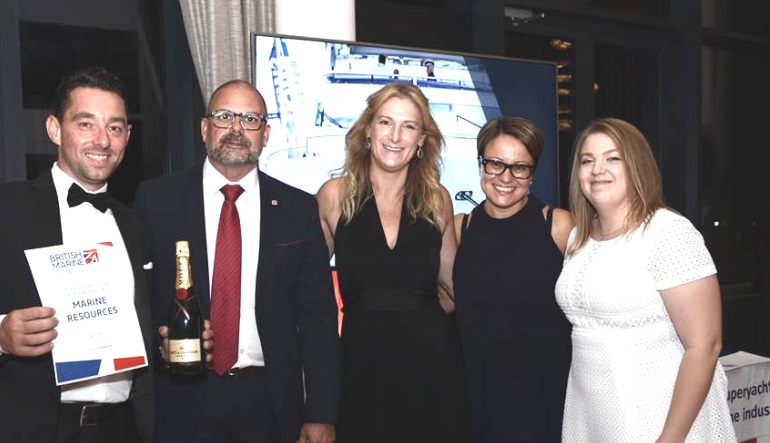 ​Marine Resources Recruitment Ltd has been recognised as a Runner Up for the British Marine Award, 'Best Company to Work For – Under 20 Employees'.
​
James Ward, Managing Director, said: "This award is a fantastic achievement for Marine Resources. I am incredibly proud of all of the achievements and hard work from the Marine Resources team, especially over the last few years. We consider it incredibly important to invest in our team, and over the last couple of years we have reinvested in both our team and the business to create the best working environment possible."
​
This year marks the 50th anniversary of TheYachtMarket.com Southampton Boat Show, and to celebrate British Marine held a Gala Awards Dinner to recognise key businesses within the marine industry and to celebrate their successes. Many businesses were nominated by their peers and by employees with the awards being presented by Greg Munford, President of British Marine.

Hayley James-Harris, Head of Member Relations from British Marine said: "The judging panel were over whelmed with the quality of entries this year and are genuinely pleased to see businesses investing in staff. Marine Resources are an excellent example of this and a well deserving runner up. They recognise and reward their staff through innovative and creative ways and have a holistic approach to personal development and work life balance."
​
We pride ourselves on being an innovative, motivated and fun company to work for, with unique reward schemes, company perks and team building events. Over the past two years a significant amount of time and resources has been invested in the company and team members, with a new break out area, outstanding reward and recognition schemes, and a focus on providing several platforms for feedback from the team. Each person is encouraged and empowered to progress and drive their career towards their goal.
​
James added: "We are honoured to receive this award from British Marine and we are so pleased to be recognised alongside some fantastic marine companies, including Superyacht Tenders & Toys, for winning Best Company in our category. We have some very exciting plans in place over the next few months and I am looking forward to seeing how the company grows over the next year as we strive to make this the best company to work for, giving fantastic career opportunities."
​
Pictured: James Ward, Managing Director of Marine Resources (left) with (from left to right) Greg Munford, President of British Marine, Jo Munford, Operations Manager, Zoe Callard, Relationships Manager – Contracts and Kathryn Watts, Office Administrator